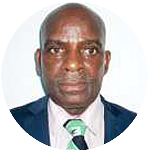 Non-Executive Director
Mr. Clement Akanibo
About
Clement is a Chartered Accountant of over twenty-seven (27) years' in Accounting / Taxation areas of the Financial Sector, with vast experience working in both Public and Private sectors.
At different points in his career, he worked for the Rivers State government, Federal Internal Revenue Service (FIRS), Nigeria Deposit Insurance Corporation, Shell Petroleum Development Company Nigeria, John Holt and Adamac Group.
He was appointed to the Board on July 22, 2018.